Home Remedy for Cracked Heels
Monday, 21 May 2018 00:00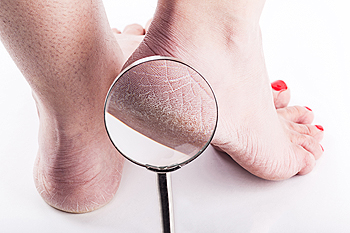 It is easy to forget to pay special attention to the heels of your feet when moisturizing. If there is an insufficient amount of moisture in the heels of our feet, they can crack easily. You may be prone to cracked feet if you are often dehydrated, take very hot showers, or excessively scrub your feet. Fortunately, there are some home remedies you can try if you are experiencing problems with cracked heels. This remedy involves both banana and coconut oil; both of these ingredients are known for their great moisturizing properties. In order to create the mixture, mix one ripe banana with a quarter cup of coconut oil and apply all over the feet. Let the mixture rest for 20 minutes before rinsing it off with cold water. This is a natural method that can be used to heal cracked feet. If you have any questions regarding cracked heels or are looking for advice on how to care for cracked heels, a consultation with a podiatrist is advised.
If the skin on your feet starts to crack, you may want to see a podiatrist to find treatment. If you have any concerns, contact one of our podiatrists from Cascade Foot & Ankle. Our doctors can provide the care you need to keep you pain-free and on your feet.
Cracked Heels
It is important to moisturize your cracked heels in order to prevent pain, bleeding, and infection. The reason cracked heels form is because the skin on the foot is too dry to support the immense pressure placed on them. When the foot expands, the dry skin on the foot begins to split.
Ways to Help Heal Them
Invest in a good foot cream
Try Using Petroleum Jelly
Ease up on Soaps
Drink Plenty of Water
Ways to Prevent Cracked Heels
Moisturize After Showering
Skip a Shower
Keep Shower Water Lukewarm
Don't Scrub Your Feet
If you are unsure how to proceed in treating cracked heels, seek guidance from a podiatrist. Your doctor will help you with any questions or information you may need.
If you have any questions, please feel free to contact our offices located in Yakima and Ellensburg, WA. We offer the newest diagnostic and treatment technologies for all your foot care needs.
Read more about Solutions for Cracked Heels